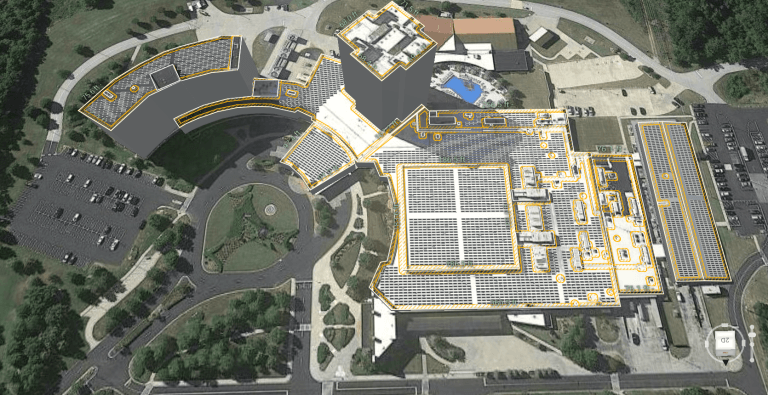 The 1.7 Megawatt modern energy system will harness the power of the 
sun, a sustainable gift from Mother Nature.
Quapaw, OK — In keeping with thousands of years of tradition, the Quapaw Nation is turning to
nature's abundant resources to help power Downstream Casino Resort.
More than 3,500 solar panels will be installed as part of one of the largest arrays in the Midwest
near one of the region's largest casinos. In total, the 1.7 Megawatt system, engineered by APC
Solar, will offset approximately 3.4 million miles driven on the road and eliminate carbon
monoxide emissions of 1.7 million pounds of coal burned – yearly.
"By harnessing the gift of the sun and the power of modern technology, we can both power the
experience our guests love while honoring the deeply cherished belief that sustainability is both
a spiritual and financial responsibility for us all," said Joseph T. Byrd, Quapaw Nation Chairman.
APC Solar worked with the Downstream Casino Resort to design a system that combined form
and function, maximizing the potential of available space without compromising the property's
aesthetics. Once complete in fall 2023, the system will produce an estimated 2,162,968 kWh
per year, providing a valuable power consumption offset.
"We take pride in designing, engineering, and installing solar energy systems that both meet our
clients' energy needs and help the planet," said Shawn Roberts, CEO of APC Solar. "Downstream is an iconic destination
in the four corners, and we're honored to partner with the Quapaw Nation to lead the way in
sustainable energy practices in the region and the casino industry."
Under the new Inflation Reduction Act of 2023, the 3,500-panel array will provide numerous
benefits for Downstream Casino Resort and the Quapaw Nation. The team at APC Solar
helped the tribe navigate the variety of incentives available, ensuring the solar decision would
be a long-term, financially beneficial decision for generations to come.
"After an extremely competitive bidding process, I am proud to be partnering with APC Solar on
such a significant project," said Ben Blosh, Chief Financial Officer for Downstream Casino. "The
environmental and financial benefits of this project will be felt by Downstream and the Quapaw
Nation for decades to come."
DOWNSTREAM CASINO RESORT 

Downstream Casino Resort is owned and operated by the Quapaw Nation of Oklahoma. Downstream Casino Resort brings premier gaming and entertainment to northeastern Oklahoma. Visitors will find more than 1,700 of the latest and most popular slot machines, a variety of table games, craps, roulette, and a live poker room. Enjoy live entertainment and music legends in concert or experience the challenge of championship golf at the beautiful Eagle Creek Golf Club.
Sophistication and style with Native American influences await you in each of the 374 luxurious guestrooms and suites at the on-site hotel. The hotel offers standard deluxe rooms, as well as one and two-bedroom suites. All rooms have a mini-fridge, flat-screen television, and a safe. Smoking and non-smoking rooms are available.
Enjoy a wide variety of dining options from the best steaks in the four-state region at Red Oak Steakhouse, catch the best in sports at Legends Sports Bar featuring Downstream Crafted Brewing Company Beer (DCBC) or discover the Spring River Buffet that features a staggering variety of cuisines that can be finished off with mouthwatering desserts. The Downstream Casino Resort is located in Oklahoma on Interstate 44, just four miles east of Joplin. Find more information at Downsteamcasino.com
APC SOLAR
APC Solar is the only solar company in the Midwest that specializes specifically in commercial solar. With
over 21 years of energy excellence within its talented team, APC Solar leads the way to
sustainable, ethical energy solutions for businesses of any size in Missouri, Kansas, Oklahoma, and Arkansas. The use of solar panels to power businesses is an invaluable asset for owners
looking to reduce their companies' impact on the environment, and APC Solar is proud to be the
solar partner for leading Midwest companies, including:
BKD/FORVIS LLP – Springfield, MO.
Ballparks of America – Branson, MO.
Mayse Automotive – Aurora, MO.
Woodshed Truck Stops – OK.
The Butterfly Palace – Branson, MO.
TA Travel Center – Mt. Vernon, MO.
Fritz Adventure – Branson MO.
As well as many other numerous small to large businesses across the Midwest, looking to benefit from solar power.
MEDIA CONTACTS
Downstream Casino
Christian McDaniel
(918) 919-6000
BBlosch@downstreamcasino.com
Downstream Casino Resort
69300 E. Nee Rd., Quapaw, OK 74363
cmcdaniel@downstreamcasino.com
Jeremy Brookman
Marketing Manager
APC Solar
jeremy@veriwatt.com
1-417-450-2121